The Royal Swedish Academy of Sciences has decided to award the 2019 Nobel Prize in Chemistry to John B. Goodenough, The University of Texas at Austin, USA, M. Stanley Whittingham, Binghamton University, State University of New York, USA, and Akira Yoshino, Asahi Kasei Corporation, Tokyo, Japan, Meijo University, Nagoya, Japan "for the development of lithium-ion batteries".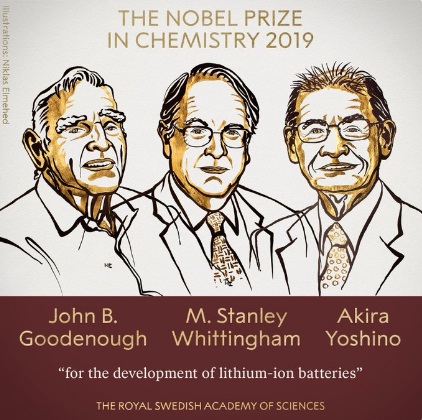 Королевская Шведская Академия Наук решила присудить Нобелевскую премию по химии 2019 года Джону Гудену, Университет Техаса в Остине, США, Стэнли Уиттингему, Университет Бингемтона, Государственный университет Нью-Йорка, США, и Акире Йошино, Корпорация Асахи Касей, Токио, Япония, Мейхо Университет, Нагоя, Япония «за разработку литий-ионных батарей».
Press release: The Nobel Prize in Chemistry 2019.